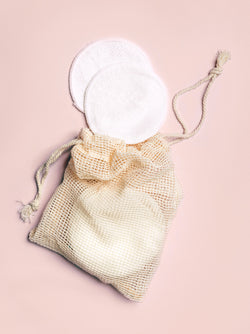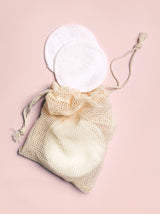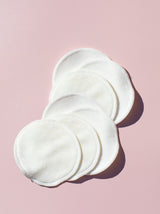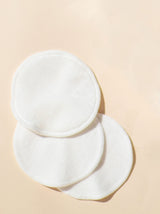 Reusable Bamboo Velour Rounds
reusable bamboo rounds • 7 rounds/pack
Clean face, clean conscious.
What it is: A low-waste, economical substitution to their disposable alternative. Use to remove makeup, dirt and grime, apply toner, exfoliate and more. 
Why it works:
Made from super soft and sustainable bamboo velour, the reusable rounds are suitable for all skin types–removing makeup without tugging or irritating the skin.

Reusable bamboo rounds reduce waste, save water and save you money. 

Choosing reusable over disposable and quality over quantity helps to reduce your environmental impact.
The mesh bag makes storing and washing the rounds extra easy: you can even wash all the rounds at once in the bag once you've used them all.
About au Naturale:
Full-spectrum color play with all-day color stay, made with good-for-you ingredients that support your skin care. All our makeup products are: Certified Organic, Hand-Crafted, Ethically Sourced, Leaping Bunny Certified, Non-Toxic, Paraben-Free and Gluten-Free. Welcome to the Clean Beauty Revolution®